Map of Santander to Porto: Brittany Ferries Magazine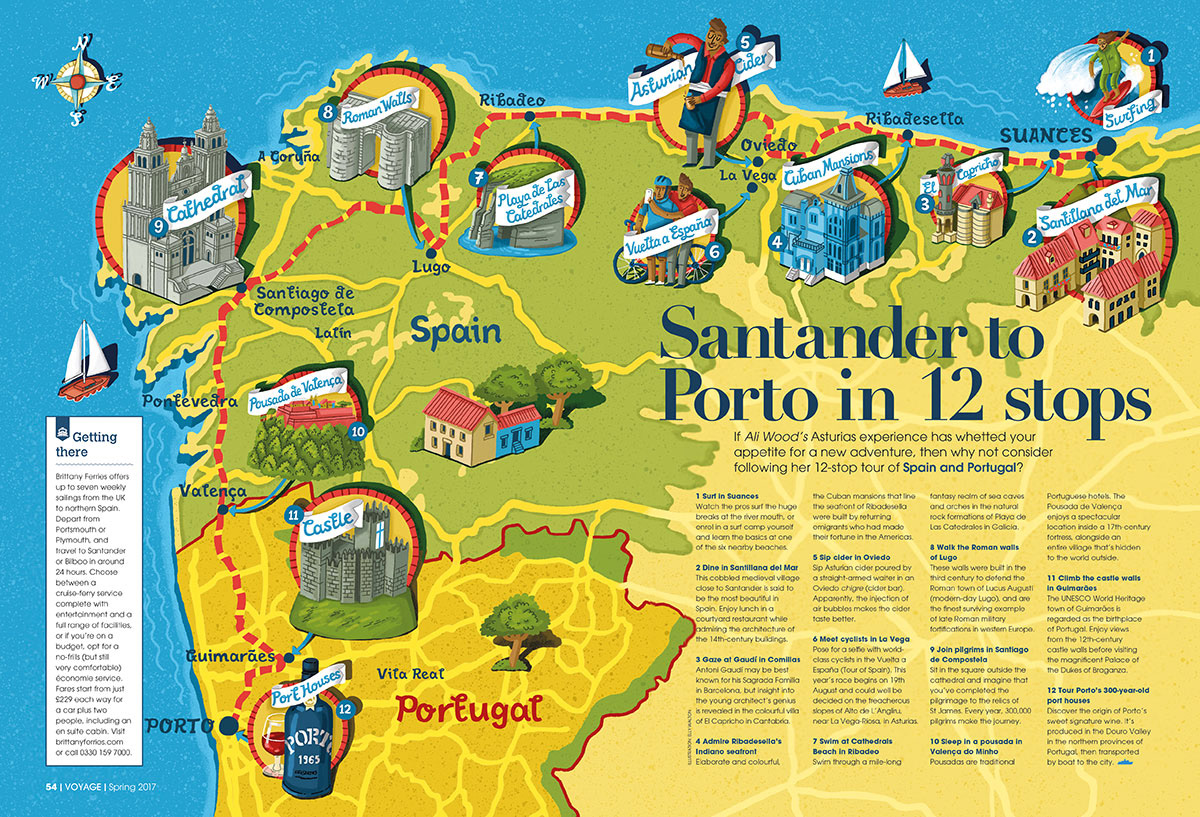 A lovely opportunity to illustrate this DPS map for Brittany Ferries magazine, for a feature detailing a route through Spain and Portugal and some of the fun stop-offs along the way
Map of Bilbao Metro System: Brittany Ferries Magazine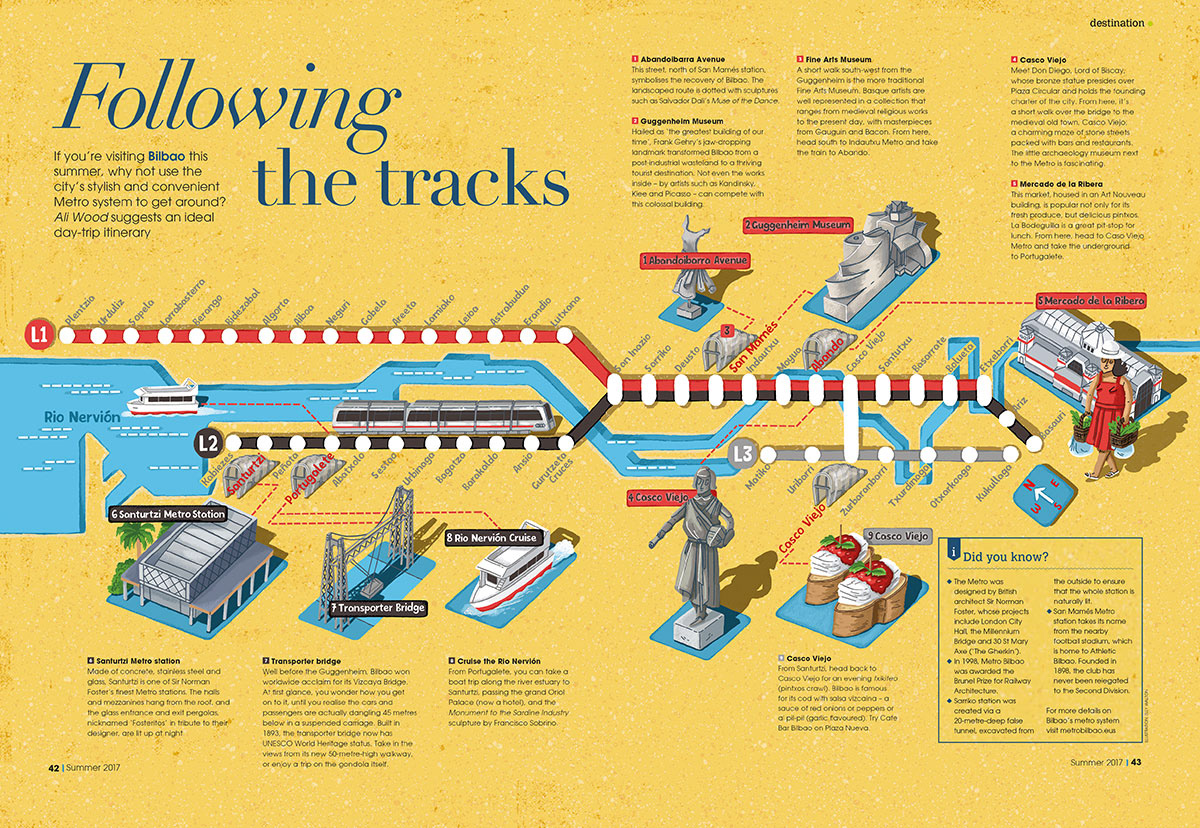 Map of Tokyo: HRG On Business Magazine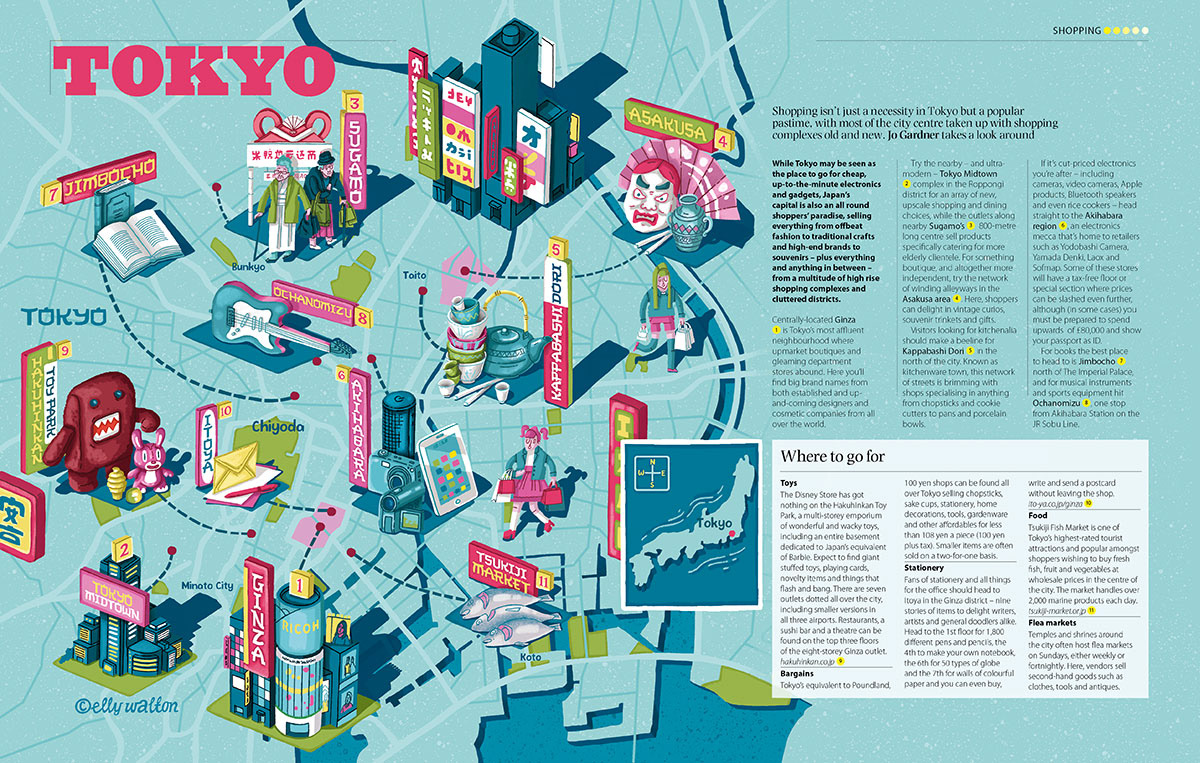 Map of Mallorca: Ink Publishing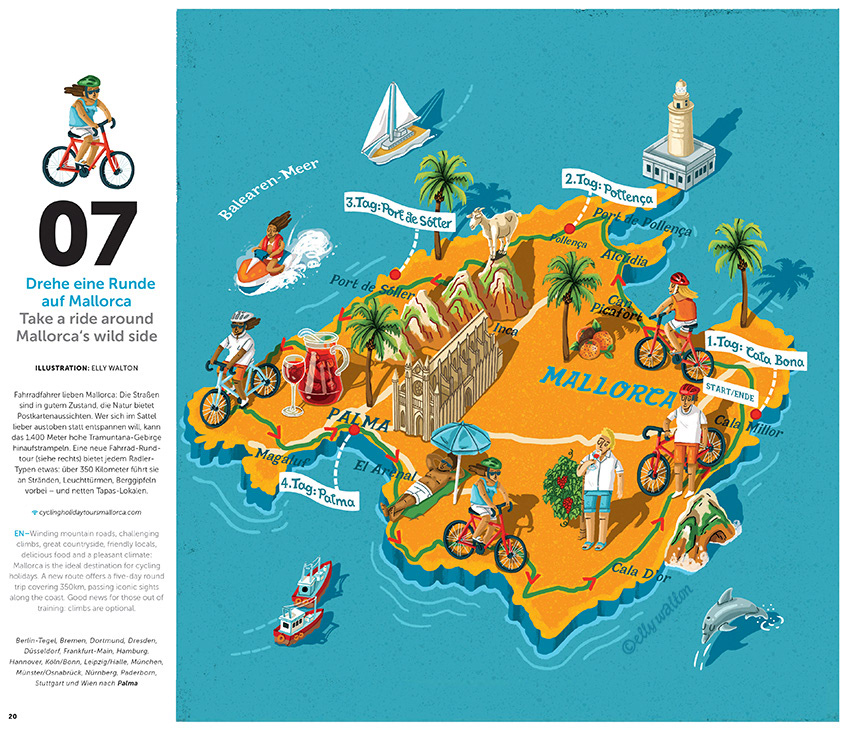 Ink Publishing have a fabulous roster of airline clients and I was pleased to be asked to illustrate a cycle route around the beautiful island of Mallorca for German Wings magazine. Below is the rough for the map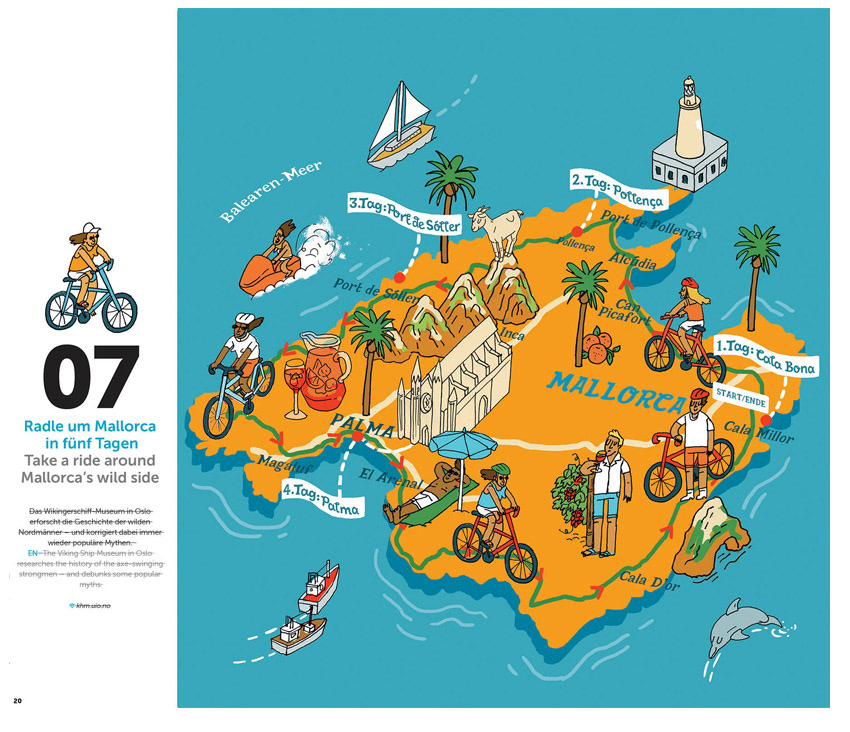 Map of Scotland: Outdoor Magazine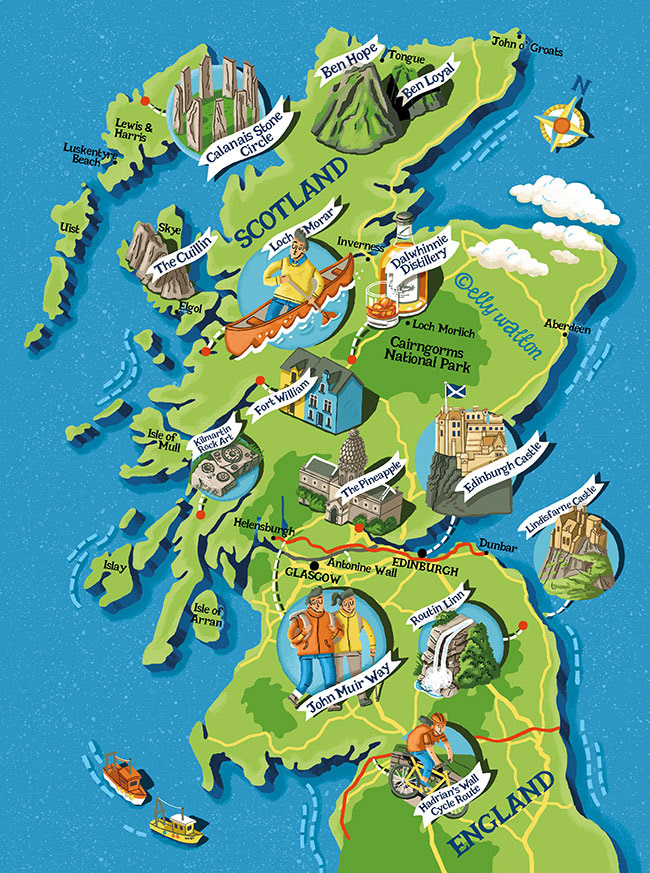 Road School Book Cover Illustration: Crown House Publishing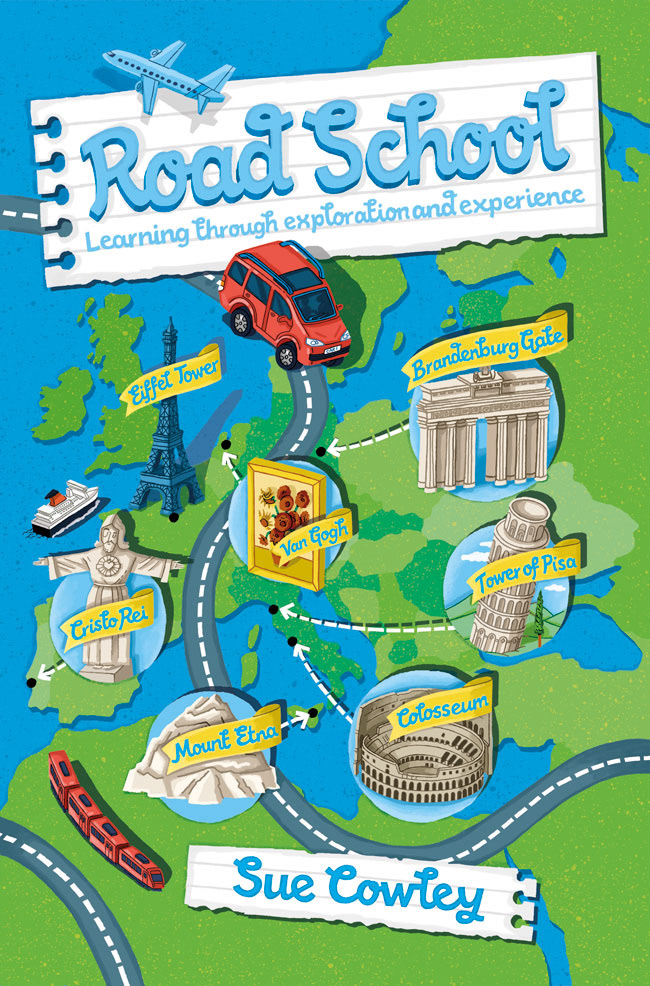 Crown House Publishing asked me to illustrate the cover of Sue Cowley's informative book "Road School" with a colourful map of Europe and some of its cultural highlights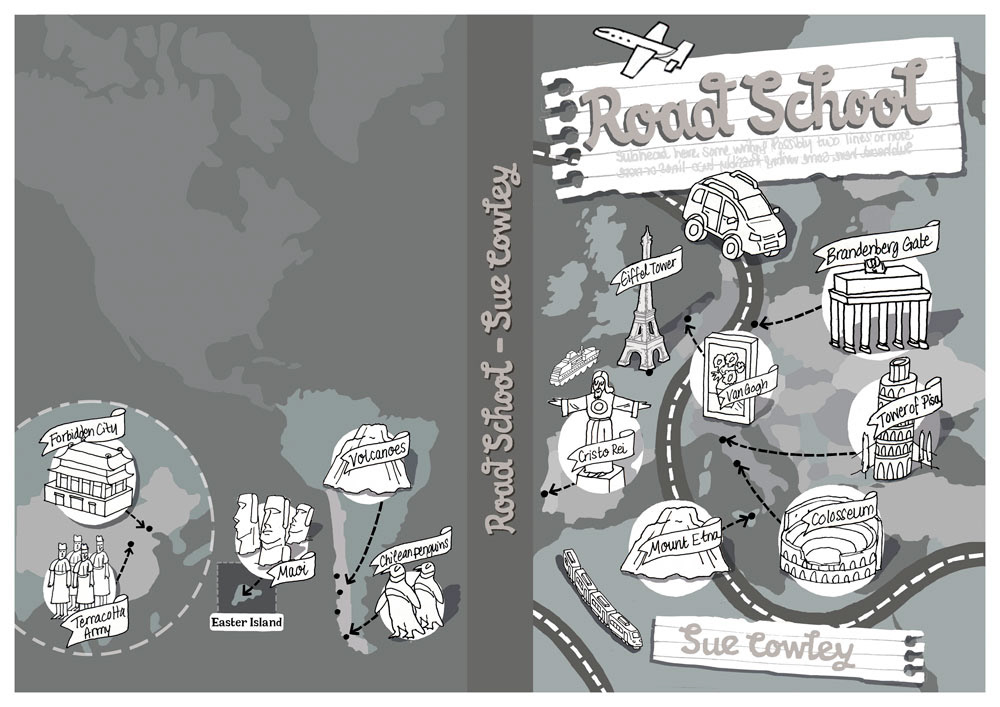 Map of Orlando Burger Restaurants: Orlando Magazine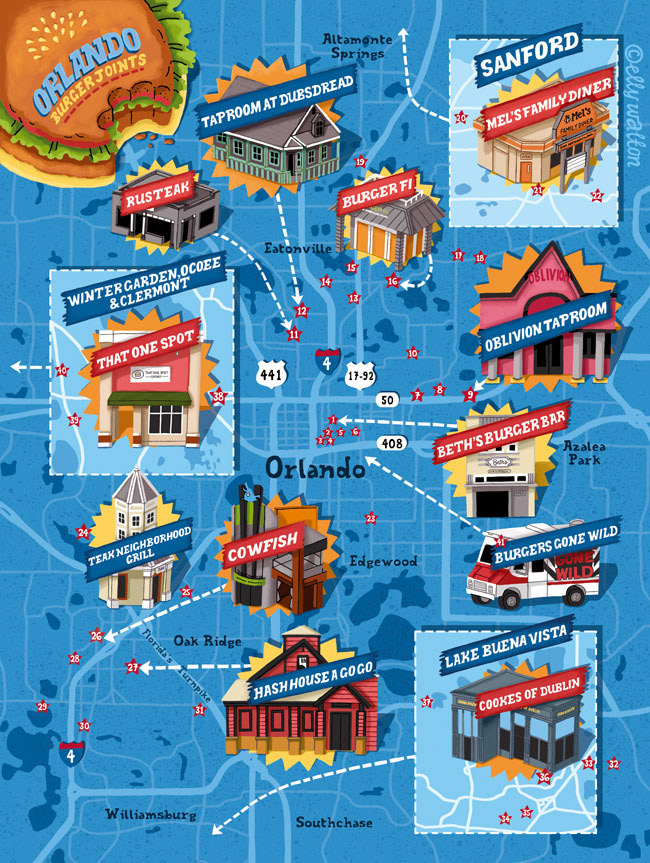 The lovely folk at Orlando magazine asked me to illustrate this map of Orlando and some of the tasty burger joints they were featuring in their magazine
Initial rough for the map of Orlando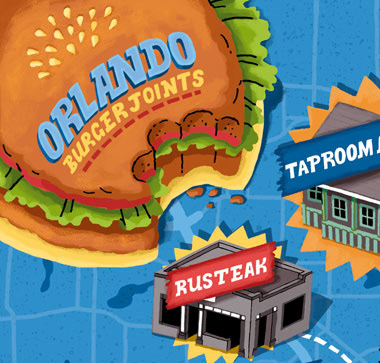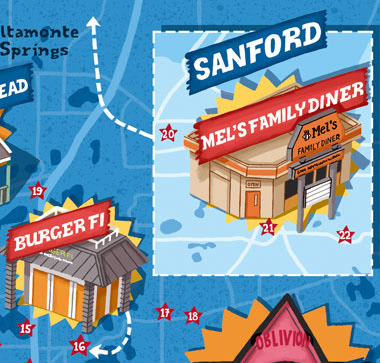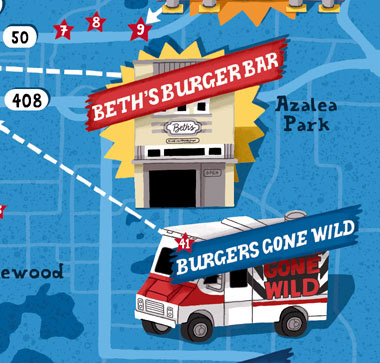 Details from the Orlando map
Aer Lingus Magazine - Map of Berlin
This was a little map of Berlin for Aer Lingus inflight magazine. The article discussed the modern, vibrant and youthful vibe of Berlin and how it is a popular place for new tech start-ups. I went with a tecchy/computer typeface and modern bright colours and some funky bearded hipster people wandering about!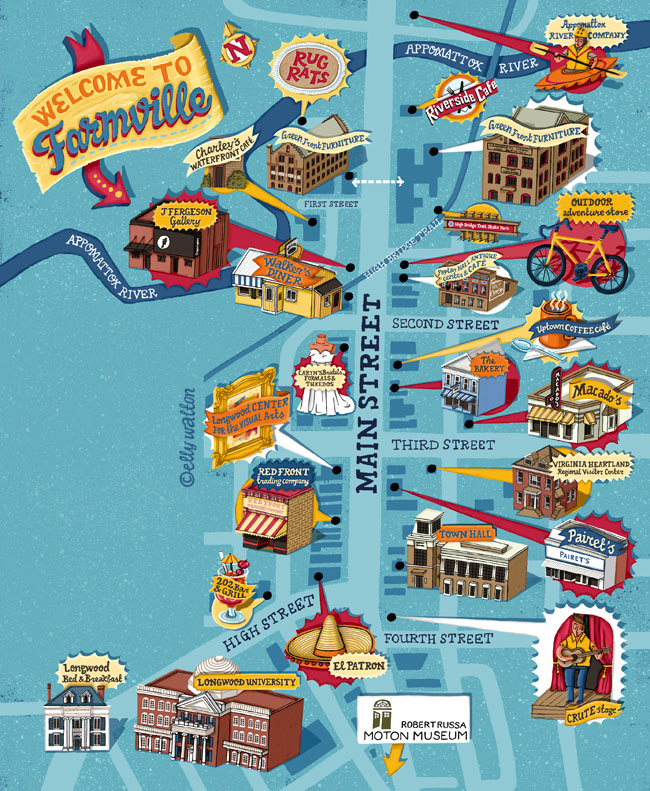 A map of the town of Farmville in Virginia for their local university magazine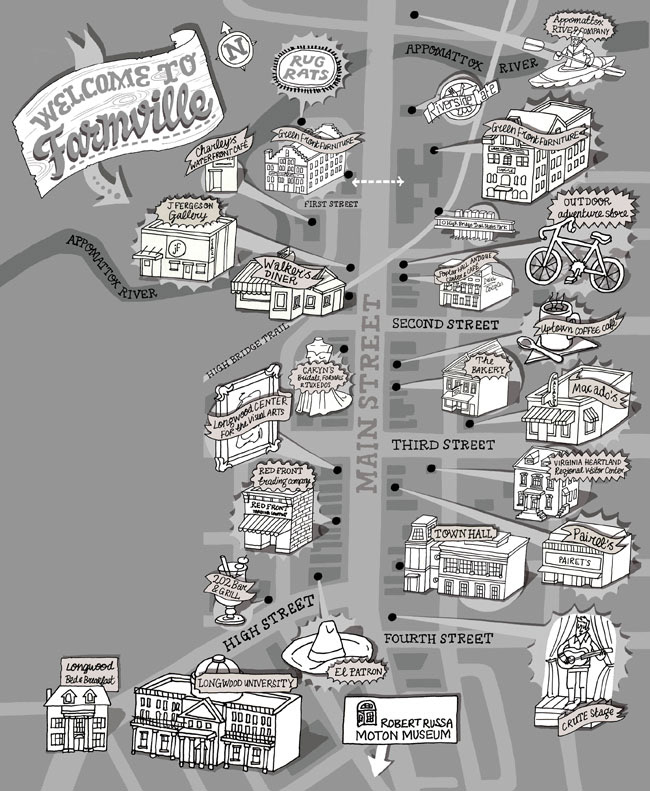 Initial rough for the Farmville map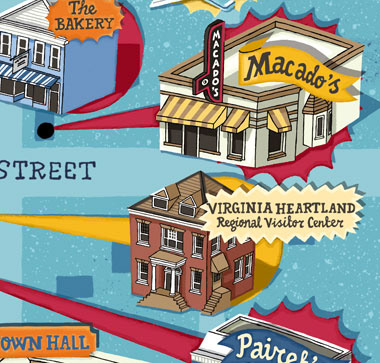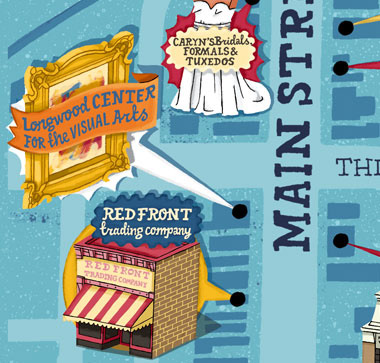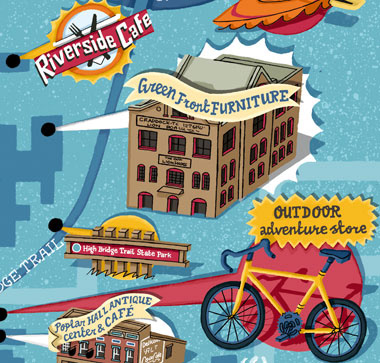 Details of the Farmville map
Waitrose Weekend - Good Food Guide Feature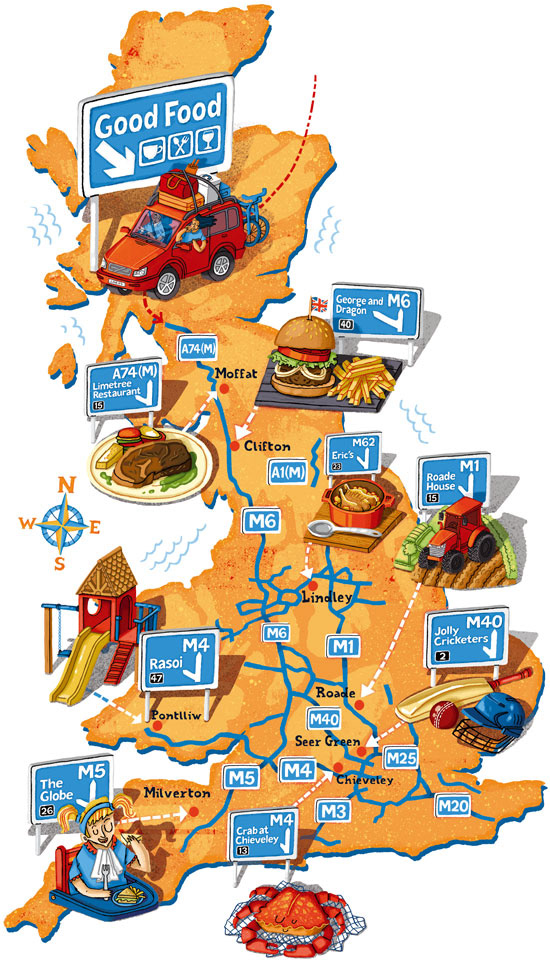 This was a wondeful commission from Waitrose Weekend to illustrate one of their "Good Food Guide" features about great food just off the motorway. I went with little blue UK motorway signs to highlight each stop just off the motorway, as well as little icons picked from the juicy bits of the copy to illustrate each restaurant.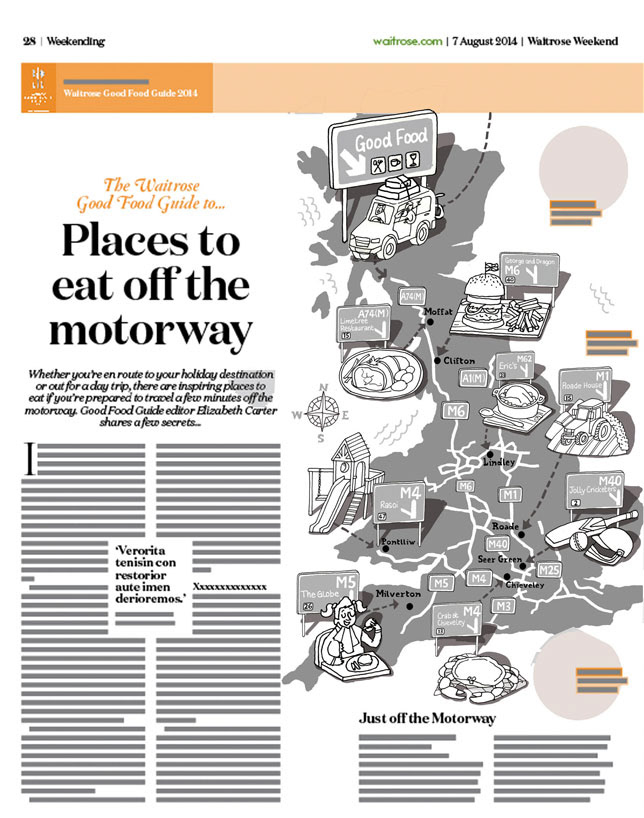 Initial rough for the feature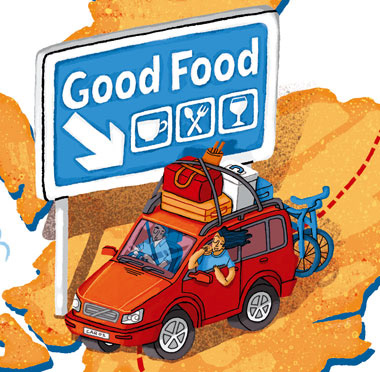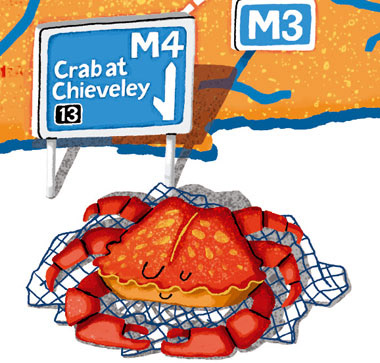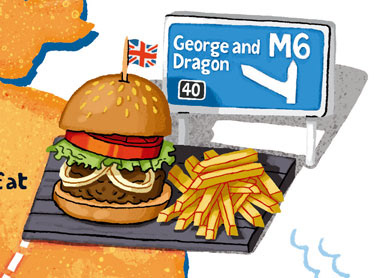 Waitrose Weekend - Tour de France/Fromage feature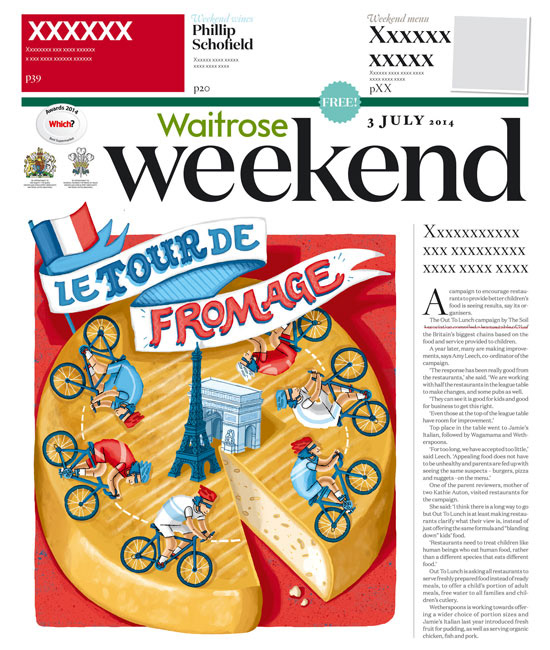 Waitrose Weekend asked me to produce a large DPS map and cover illustration for their "Tour de Fromage" feature, illustrating the route of the Tour de France with little cheeses sold in Waitrose along the route. Had much fun with this cover illustration as well!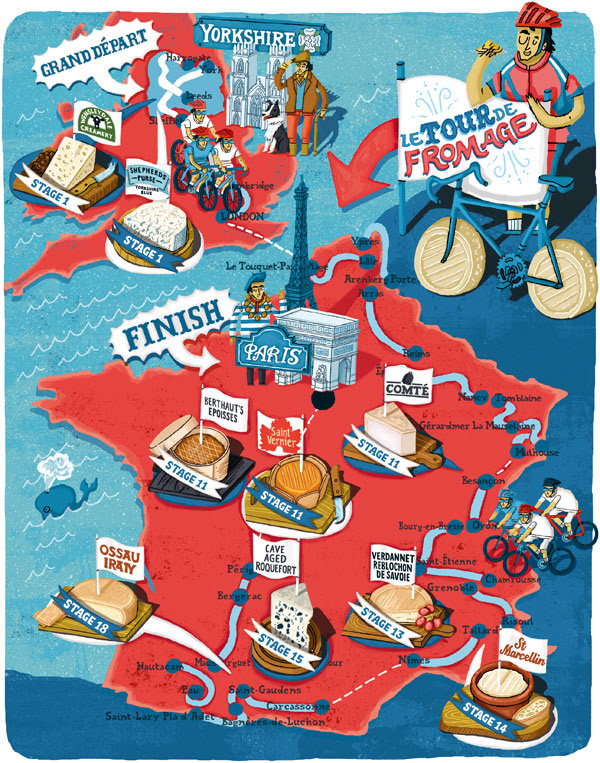 This was the colour scheme the Art Director went with in the end, below was an alternative using the yellow of the Tour de France logo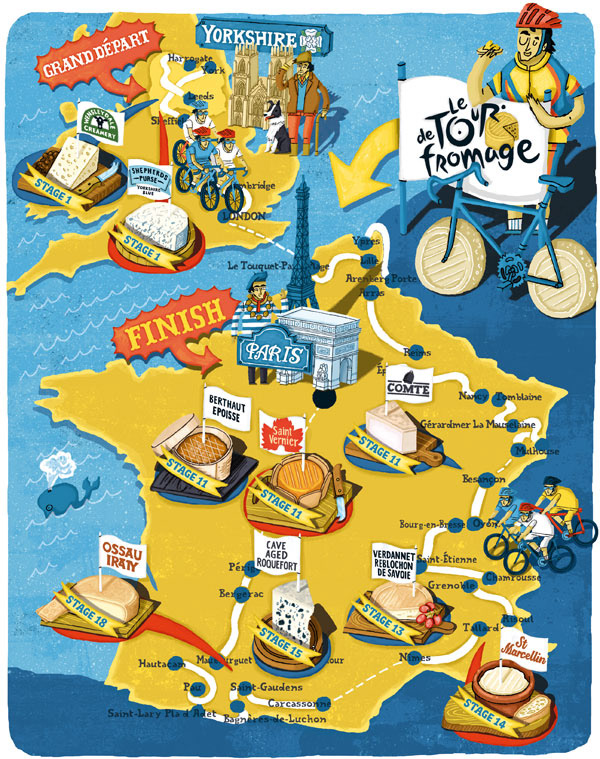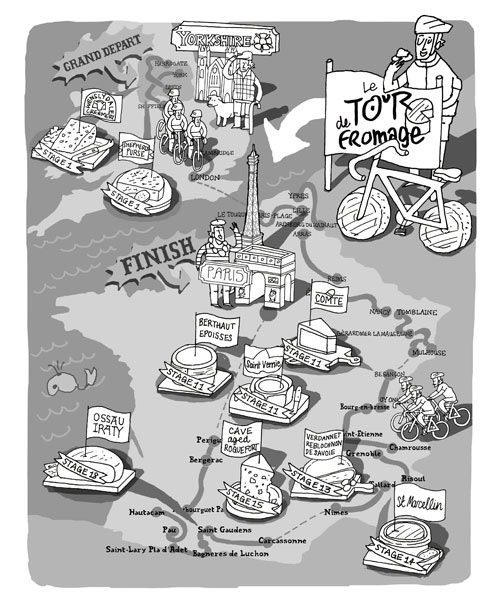 Initial sketch for the map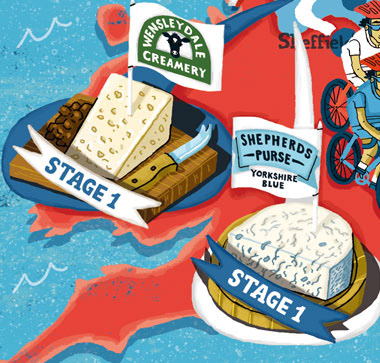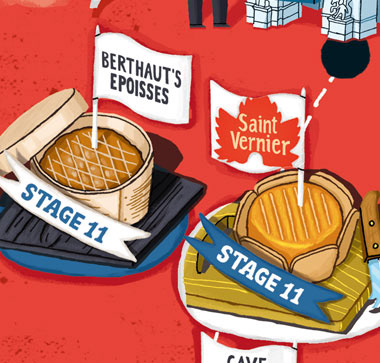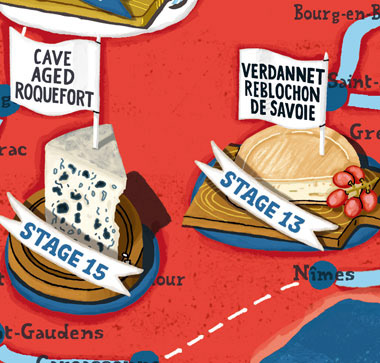 Cycling Active - Yorkshire cycle route map
This was for a feature in Cycling Active magazine, to illustrate a cycle route around an area of Yorkshire. Research revealed that there were quite a few interesting sights in the area, including Malham Cove where Harry Potter was filmed, Simon's Seat where Druids gather and Kilnsey near where Postman Pat was created. Plenty of fodder for fun icons to dot around the map!
Initial rough for the map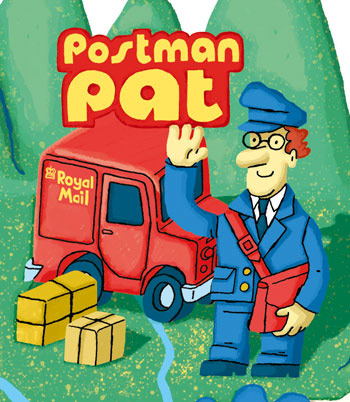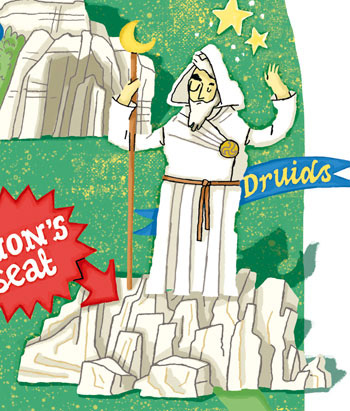 LSR Magazine - Map of Industry in Sweden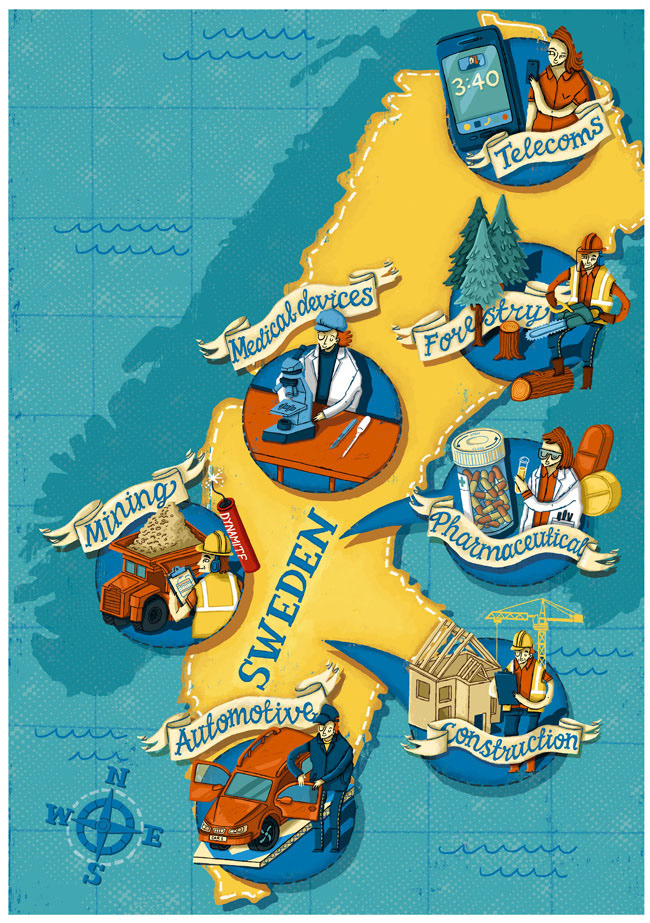 LSR, a digital magazine, asked me to produce this map of the multitude of industries currently thriving in Sweden. I had fun making each industry into it's own little montage.